What's the hype with Yummy Linen's Boho Vintage Kantha Quilt's?
Well, they are our favourite tactile textile with the hand stitching feeling amazing.
Cotton, layers and layers of vintage cotton cloth hand-stitched together
with an embroidery style called Kantha.
We chose each of our Kanthas and this year we will be grading them to help you better choose the quality and style you are after.
Not all Kantha's are the same. While the bohemian look is consistent, the quality of the stitching and cloth varies a great deal.
We source vintage cloth from the 1950s to the 1970s and choose quilts by texture, stitch quality, look and size.
Their interior styling uses are endless! Use them as table cloths, throws for the lounge room, across the backs of occasional chairs, or as bed throws. They look so good folded over the arm of a chair, and the best thing is you can mix and match to your heart's desire. We always say here at Yummy Linen, 'if you love it buy it, as there are no two the same'.
Outdoor entertaining uses include that 'incredible' picnic blanket or styling up the outdoor table for parties. Imagine lying back on your romantic picnic with the Kantha under you and surrounded by our unique vintage cushions. It's a very decadent look indeed.
Our Boho quilts are large enough to make a single or king single quilt and will cover a double bed. On a queen size bed, they make a large throw blanket size. Approx 160cm x 220cm
You can find many Kanthas for sale on the internet and we would like to say 'buyer beware' as you may not get what you ordered if you even receive your order. There are many shoddy people out there eager to take your money!
On the other hand, we are an Australian Business situated on the beautiful Coffs Coast of NSW and we take the risk finding and sourcing quality pieces for you.
If for any reason we are not happy with a quilt we receive, we either sell it at a reduced price or use it to make other soft furnishings, like bags, placemats, oven glovesand more.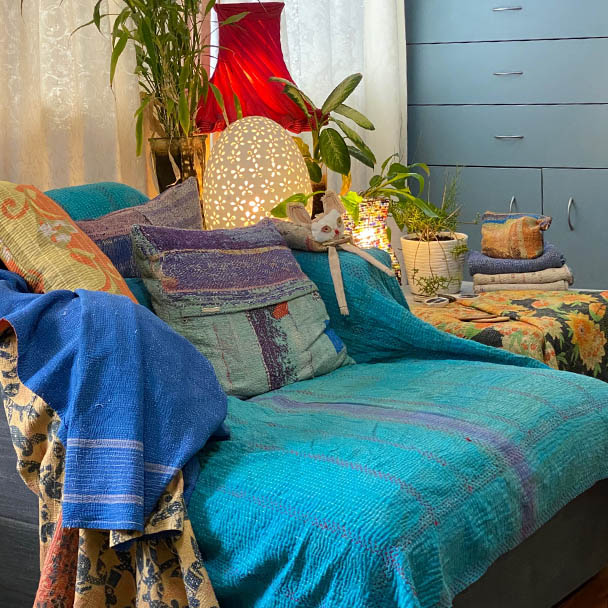 Pic showing a variety of aged Kantha, from Grade A to rugged ( cushions) Kantha, where the cloth has begun to break down, creating the most beautiful texture.
Our Grading system-
Vintage Kantha's - Our fine-stitched quilts made by experienced female artisans in the Rajasthan Provence of India demand a higher price than that of their apprentices, where the stitching is spaced further apart, is larger and takes less time to complete. A Grade
Cotton quality that may or may not include small holes or patched pieces is taken into consideration for the overall grading and pricing of the piece. Small hole's and stains or broken stitching are all characteristics of vintage Kantha and not considered faults. B Grade
Overall a good quality piece but slightly lighter in weight ( less layers) B Grade
However, large stains, holes, or poor quality stitching will reduce the price dramatically. - D Grade
Some styles are extremely rare, expensive and hard to source. These Kantha quilts demand a higher price and are favoured by our business. Our interior designers love us for our rare finds! A1 - Rare
A1 - Highest Grade / Rare
A - Highest Grade
pic showing A Grade Quilts.
B - Good quality - lighter weight
D - Great for projects. Has faults.

Pic showing substandard quilts.
Recent Posts
Cotton Pyjamas, pyjamas, night suits, loungewear, ladies night suits, sleepwear and whatever else yo …

What country should be on the 'made in' labels on our textiles products?I hope this article makes yo …

What's the hype with Yummy Linen's Boho Vintage Kantha Quilt's?Well, they are our favourite tac …